The Proof GmbH has again successfully completed Fogra certification for the production of contract proofs – Contract Proof Creation.
The certification proofs have been produced both on EPSON 7900 and EPSON 9900 proof printers with SpectroProofer measuring instruments. Our two proofing papers were included in the certification process. Proof GmbH is therefore certified for the most frequently used Proofing Standards.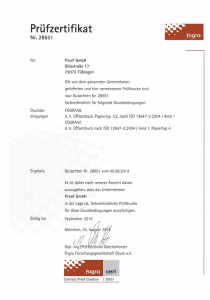 The requirements for the Fogra certification go far beyond simply measuring the media wedge. So the proofs are analyzed according to the following criteria:
Compliance with the tolerances of the Fogra Media Wedge CMYK 3
Determination of color accuracy [ISO 12642-2 test chart], the color gamut and gray balance
Gloss measurement in accordance with ISO 8254-1 [TAPPI]
Tone value
Register and resolution
Status information
Tone value
homogeneity
In parallel to the measurements, control measurements were carried out with a second X-Rite meter in order to eliminate measurement errors.
The conclusion of the Fogra: "The proofs of the company Proof GmbH are as color accurate and binding in the following combinations:
1. Fogra 39 / ISOCoatedV2
Software Fiery XF 5.2.2
Proofing Substrate: EFI Gravure Proof Paper 4245
EPSON Stylus Pro 7900
Fogra 39
2. Fogra 47 / PSOUncoated
Software Fiery XF 5.2.2
Proofing Substrate: EFI Proof Paper 9120 XF matt
Epson Stylus Pro 9900
Fogra 47
The Fogra certification and the full 11-page report from Fogra can be downloaded here::