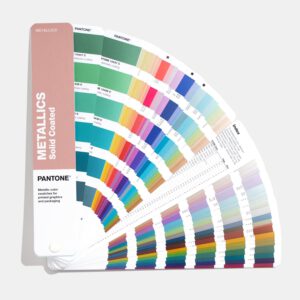 PANTONE has combined and supplemented its two metallics fans "PANTONE Metallics Coated" and "PANTONE Premium Metallics Coated" into one fan. On the one hand, a new metallic base colour, "PANTONE Rose Gold 10412 C" has been added to the existing "Premium" base silver "PANTONE Silver 10077 C", adding 54 new metallic shades. On the other hand, the two previous fans are now separated according to Metallics base colours, the fan is divided into two areas: Into one Metallics area for "packaging" and into one for the classic "printed graphics".
The 354 high-gloss, durable metallic packaging colours are based on the two premium metallic base colours PANTONE Silver 10077 C and PANTONE Rose Gold 10412 C and form the front part of the fan. Fan pages with the 54 new colours are now marked with a black square on the top pagination to make the new colours easier to recognise, a good idea in my opinion. The 301 metallic spot colours for advertising graphics are based on the seven classic, "old" PANTONE gold and silver shades with PANTONE 871 C to PANTONE 877 C and form the back part of the fan.
Printed graphics PANTONE Metallics (previously referred to as "Metallics")
Metallic inks for non-packaging projects Marketing and sales materials, publishing and literature. The colours are based on the seven classic PANTONE Gold and Silver Shades 871 to 877 C.
Packaging PANTONE Metallics (previously referred to as "Premium Metallics")
Metallic packaging inks for packaging printing. These former "Premium Metallics" colours are created with the basic colours Pantone Silver 10077 and Pantone Rose Gold 10412. These special inks are made with pigments that are easier to process with water-based and UV varnishes. The varnish seals the inks, this protects the inks and thus provides the protection that is often required in the packaging sector. According to PANTONE, the new inks offer
Better print results
Greater brilliance
Higher gloss
More durability
Less leafing and tarnishing in the long term
According to PANTONE, the inks used to produce these inks (if my memory serves me well, from Sun Chemical) are somewhat more expensive, but are also suitable for a wide range of aqueous and UV coatings.
PANTONE and EFI? No chance.
After having implemented the new PANTONE colours in our proofing system over the past few days via a difficult update from Fiery XF, we noticed that the new Metallics colours were still missing.
Currently, the PANTONE Metallics colours for packaging printing are not yet supported by Fiery XF, and there are no plans to support them, according to Fiery Support. For us an incomprehensible decision. Admittedly, metallic colours cannot be reproduced in the proof anyway, as only the colour but not the metallic gloss can be reproduced. For us as a service provider, however, this decision by EFI means that we – when customers order proofs with Premium Metallics colours – have to create them manually with LAB values in the job, because our proofing software will not recognise all current PANTONE colours, but will mark them as unknown special colours and refuse the proof.
Since the current PANTONE V4 colour palettes can only be integrated into the Adobe product palettes with considerable effort on the part of the users, it is not quite clear to me whether the lack of colours in Fiery is due to a profit-driven, ostentatious PANTONE licensing policy or a miserly, ostentatious EFI product policy. However, be sure:
We at proof.de will provide the service and also offer these colours for the proof. We owe this to our customers.