On the last weekend in September the general meeting of the association freieFarbe e.V. took place in Tübingen. From Friday to Sunday, the members worked, discussed, conceived and, as you can see on the picture, " punted" in and with new products and ideas in the best weather on the Neckar river.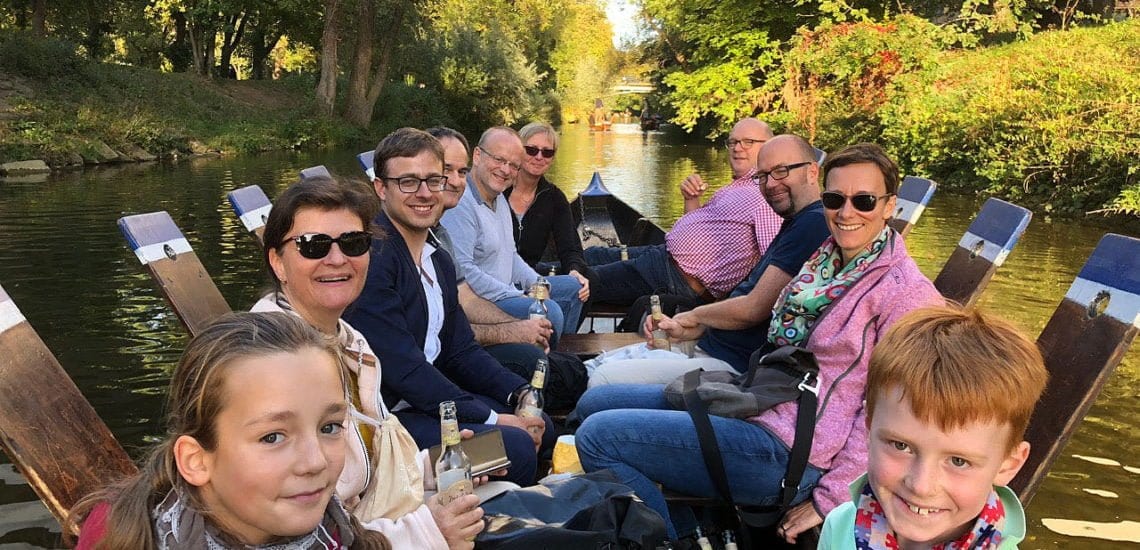 After a meeting with the colour management specialists from GMG on Friday, who support the association with software and proofing media, work continued on the new CIELAB HLC Colour Atlas in the afternoon, to wrap up the day with tarte flambée and wine at Matthias Betz' house.
On Saturday, the general meeting followed at Lorettoplatz at Proof GmbH, where the past year was discussed and the coming year was touched upon. With the CIELAB HLC Colour Atlas and the DIN SPEC 16699 Open Colour Communication much was reached and accomplished, but numerous ideas need to be evaluated, weighted, financed and worked on.
Present were: From Germany Matthias Betz from Proof GmbH as this year's host, Jan-Peter Homann from Homann Colormanagement in Berlin, Holger Everding from DTP Studio in Oldenburg and the Swiss Peter Jäger from pre2media in Hombrechtikon, Eric A. Soder from pixsource in Uster and Matteo Baschera from galledia in Zurich.
The board of the association was re-elected: Holger Everding as chairman, Peter Jäger as second chairman and Jan-Peter Homann as treasurer were confirmed in office.
In the late afternoon, we enjoyed a traditional trip on the Neckar River with our wives and children in a punting boat of the Protestant Collegiate, before the evening ended with Swabian cuisine, wine, cocktails, ice cream and a tour of the old town of Tübingen by night.
On Sunday, everyone gathered for a joint breakfast in the cafe of the Kunsthalle Tübingen, to visit the hyperrealism exhibition "almost alive" afterwards. After a midday pumpkin soup on the terrace in the Betz house, everybody started their return journey by car and plane.
Anyone who wants to support freieFarbe e.V. and become a member is most welcome. The association benefits not only from the active participation of the very engaged top leadership, but also from membership fees, ideas and suggestions from a broad base of supporters.
Next event: The presentation of our new CIELAB HLC Colour Atlas XL and DIN SPEC 16699 at the annual meeting of the "Deutsche farbwissenschaftliche Gesellschaft e.V." ("German Colour Science Society") at the Hohenstein Laboratories in Bönnigheim on 10 October 2018
More articles related to this topic: